V-Com Partition Destroyer
aka Partition Commander
RSI / CTD / CTS / tendinitis / carpal tunnel tips
Summary Judgment Motion Hearing
Counterclaim & answers [Round 2]
In May of 1995, I was diagnosed with tendinitis. Over the next year, I had submitted to drugs, occupational and physical therapies with little success. In May of 1996 my treating physiatrist had recommended three to four weeks acupuncture. But this acupuncture treatment would require my being out of work, or the treatment would not work. MSI (now part of Mattel) had asked me to wait until the three weeks after product released. I waited until after some of the release dates had passed and kept delaying my treatment as my condition was completely debilitating. Then after delaying my treatment for over 4 months, MSI stated that they had no release date for the product. I could not keep delaying my treatment, so I went on the date that they had me commit to. MSI knew I had a serious medical condition; MSI has received documentation that this was work related; MSI received multiple medical reports stating that time off was needed for treatment. MSI was warned that this would be violating the American with Disabilities Act and Massachusetts Workers Compensation Laws. Even though they have been warned, MSI fired me. MSI used a rule for unapproved absences that they admitted that they did not enforce, even though another employee disappeared from the office for over a day.
I am afflicted with tenosynovitis, a form of tendinitis. Tendinitis is a repetitive stress injury (RSI), or cumulative trauma disorder (CTD), which is in the same category as Carpal Tunnel. This condition arose from working long hours at the keyboard in a bad ergonomic situation and under much stress. When I followed my treating doctors' recommendations, the management at MSI fired me. When I requested reasonable accommodations, they refused. Management claimed that the doctor's statement of "I would recommend three weeks of intensive therapy, including acupuncture, while away from work" was too vague to be followed. Though MSI claimed the instructions vague, MSI refused to follow the law in getting this clarified. MSI still is using software that belongs to me, without my authorization. They have, so far, refused to remove my personally owned software from their systems.

MSI clearly violated the Family Medical Leave Act (FMLA) and other related laws such as the American Disabilities Act (ADA), as well as statutes under MGL 151b (the state equivalent of the ADA) and MGL 152. It's ironic that this software company, which produces and sells adaptive access software to permit other companies to comply with these laws, itself refuses to comply with these very same laws. I had asked for reasonable accommodations, but MSI refused. They had asked me to accommodate their schedule; I'd tried to the very best of my physical and professional ability. Then management at MSI demanded that I put off necessary medical treatment indefinitely. I accommodated them, but they refused to follow the law and accommodate me.

I was diagnosed with tenosynovitis, a form of tendinitis, in the spring of 1995. The pain had become so severe that I went to the emergency room in May of 1995. After trying conventional treatments (occupational therapy, physical therapy, NSAIDS, ice, splints) for more than a year, the pain continued to worsen.

In May 1996, the physiatrist whom I was being treated by suggested acupuncture. He had told me that I would have to take 3 to 4 weeks off from work for the acupuncture treatment to be effective. The staff at MSI had been informed of this suggestion and that I would need to take the time off for medical reasons. I did not know about the FMLA, and was not required to invoke the FMLA. At this point MSI was required to inform me of my rights under the FMLA. MSI's attorney admitted that MSI had violated the FMLA.

A friend in Hong Kong suggested getting the treatment in China. It made sense!
MSI was projecting a CaLANdar 4.0 release for early July of 1996. I was trying to wait until after this release before taking an unpaid medical leave.

In June of 1996, I had started seeing a medical doctor in Cambridge who is also a licensed acupuncturist and specializes in pain management. MSI's workers compensation carrier approved this doctor. After receiving treatment from him for over two months, he concluded that staying off of the keyboard for 18 hours after treatment was not sufficient to allow the acupuncture to aid in healing me properly. He had agreed with the physiatrist that I would have to suspend working for 3 weeks to allow the acupuncture to be effective. In a letter dated August 9th, the doctor stated, "I would recommend three weeks of intensive therapy, including acupuncture, while away from work." When I had asked the doctor if it would be better to receive the acupuncture treatment in China or from him in the US, he had responded that they (the Chinese), are the experts, and that I would be much better off being treated in China. MSI's workers compensation carrier had sent me to their doctor for evaluation. The workers compensation doctor (hired for an insurance exam), knowing of the trip to China for treatment, did not state that either the treatment nor the trip was/were unreasonable. Two of my treating physicians have signed forms stating I was totally disabled at the time that MSI had fired me. MSI refused to comply with the requests' Department of Labor.

I informed MSI of the schedule for my medical leave on August 11, 1996. I had scheduled my departure for September 11th, 1996. Since MSI did not have any objection, I had purchased the tickets on August 20th. 1996. MSI then told me that since the doctor recommended the time off and had not made time off on that specific date mandatory, that they would not permit me to take a medical leave. MSI would allow me take a personal leave 3 weeks after the CaLANdar product release, which was on September 3rd. I had then changed my schedule to abide by MSI's demands. I waited until three weeks after the CaLANdar 4.0 release, which was then scheduled for September 3rd. 1996. I had then changed my treatment plans so that I would leave on September 25th, 1996, more than three weeks after the September 3rd. release date.

On August 21st.1996, Larry Mason, Director of CaLANdar Engineering, had told me that they would release CaLANdar 4.0 "when the pain of not releasing became greater than the pain of releasing it." Shortly after that, near the end of August, I questioned the CaLANdar Product Manager about the publicized July release date. He responded that he had officially told customers that CaLANdar 4.0 would release in early July of 1996, while "trying to keep a straight face." After hearing that, I could no longer trust MSI to seriously keep any date that they gave out. I could no longer defer my necessary medical treatment for some fanciful deadline(s) having little, if any, basis in reality.

In the meantime, my doctor had recommended that I spread my keyboarding out over the weekends. He had stated this clearly in writing. I was to work 4 hours per day Friday through Monday, as opposed to 8 hours on Friday and Monday. Microsystems countermanded my doctor's orders, stating that they wanted me to rest my wrists on the weekends.

At the end of August 1996, Microsystems had pushed back the release date, again. The pain had become severe and continuous and would wake me at night or at times even keep me from sleeping at all, even with the painkillers. Since the CaLANdar Product Manager at the time had no faith in the release date, I could not keep putting off my treatment indefinitely.

The day before I had left, at MSI's request, I had instructed them on how to build CaLANdar (using my personally owned operating systems) and provided them with access and passwords to my personally owned version control software (actually licensed to me personally by the publisher). MSI requested contact information in Hong Kong, in case they had questions while I was away. At this point, none of MSI's management had told me not to leave.

I left Boston early Wednesday morning. I arrived in Hong Kong late Thursday night (11:30am Boston time). Microsystems emailed me on Thursday night at 5:32pm (Friday 5:32am Hong Kong time), informing me that they would fire me if I did not return to work Friday. Debra Gorgens admitted that they knew I could not return in time.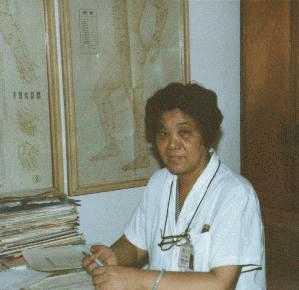 When I arrived at the hospital, I saw Dr. Zhao Xin Mei. Dr. Zhao is a full professor at the medical school which is affiliated with the hospital that I'd visited. In the mornings, she would treat 20 to 30 patients at the hospital and teach in the afternoon. Dr. Zhao is the head of the acupuncture department at the hospital. All of our communications had to translated by one of the less senior doctors, Dr. Zhao did not speak English. After I had given the doctor my medical history, Dr. Zhao's response was, "of course the acupuncture treatment would not work unless you take the proper time off." Dr. Zhao ordered treatment to begin immediately